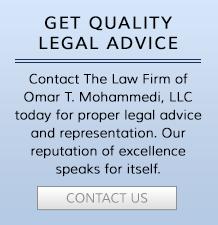 The Law Firm of Omar T. Mohammedi, has the necessary experience and expertise to handle the most complicated Islamic finance transactions, as well as Estate Planning structures. The Managing Partner, Omar T. Mohammedi, is a an Adjunct Professor at Fordham Law School teaching Islamic Finance and Islamic Estate Planning.
Islamic Estate Planning
In our practice, we have had the privilege of working with clients with both simple estates under $100,000 and complicated estates valued up to $20 million. We are also cognizant of the planning and forethought required to not only meet the standards of the Shariah but also to ensure a minimal tax burden and maximum protection of personal wealth. We have advised our clients on living trusts and family based corporations to protect their assets during their lifetime and safeguard the welfare of their families after they pass away.
Among the various articles we published please see Shariah-Compliant Wills: An Overview published in ABA Probate & Property Journal. Be sure to also visit the OTMLAW Blog for more information. In addition, please check our publications page for other articles and publications on this topic.
Islamic Finance
The Law Firm of Omar T. Mohammedi, LLC, provides the highest quality of representation in Islamic Finance transactions to all our clients – whether they are financial institutions, corporations, nonprofit organizations or individuals. Islamic financial services is one of the fastest growing sectors in the U.S. and global economy. In fact, the performance of institutions providing Islamic financial services has been competitive with those providing conventional services. Since the establishment of Islamic finance in the modern markets in 1974, Shariah-compliant assets have grown to approximately $800 billion globally in 2010. Experts estimate the global holdings to be $4 trillion over the next decade. As such, Islamic financial services are not for Muslim eyes only. They present a fresh alternative to the conventional that may be attractive for anyone.
Our Firm has the expertise in all of the major Islamic modes of finance, including:
Musharakah (Partnership)
Murabahah (Sale)
Mudarabah (Venture Capitalism)
Ijarah (Lease)
Istisnah (Construction)
Salam (Futures)
Last but not least, we also specialize in the sukuk, which is an Islamic security similar to a conventional bond. Globally, the Islamic sukuk market has grown exponentially since its inception. After a slowdown in the 2008 recession, the sukuk market increased by $13 billion in the first half of 2010. According to many reports, the global sukuk market may rise to $225 billion by 2010 – a stunning rise from $336 million in 2001. In fact, the growing demand for such securities led HSBC Bank Canada to offer a $500 million sukuk in 2010.
Sukuk securities can be very useful for Muslim and non-Muslim organizations alike. Muslim organizations can use the sukuk to raise funds for large infrastructural projects without needing to resort to borrowing from a bank on interest or fundraising from community members. Non-Muslim organizations can establish sukuk to draw more investors who normally would not purchase conventional interest-based bonds.
Our partners and associates have also lectured on this topic. Click here to see Omar T. Mohammedi interview with the International Business Times on Islamic Finance. Click here for information on the Law Firm of Omar T. Mohammedi LLC presentation on Islamic Finance at Fordham University Law School on February 7, 2011.