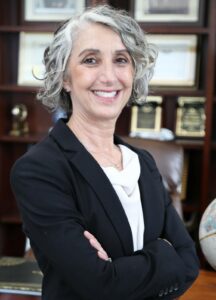 Counsel
Jill is an accomplished brief writer and skilled litigator with broad experience in complex commercial litigation involving contract disputes, business torts, and real estate. She has extensive experience representing not-for-profits and religious corporations, as well as owners, developers, and condominium/cooperative boards from pre-suit consultation through appeal.
During her 20-year career, Jill has zealously represented her clients in high-stakes litigation. Her success in solving clients' problems stems from her ability to understand their issues and goals in order to maximize favorable results. Having honed her skills practicing in large New York City- based law firms and serving as Counsel at an AMLAW 100 firm, Jill is thrilled to turn her talents and expertise to representing victims of employment discrimination and civil rights violations.
Jill left high school after her junior year to earn a B.A. in comparative literature from Simon's Rock College of Bard in 1988. She earned her M.A. from Columbia University Teacher's College in 1992 before earning her J.D. in 1997 from the Benjamin N. Cardozo School of Law where she was a member of the Arts and Entertainment Law Journal and was competitively selected to participate in the Criminal Appeals Clinic.
---
Experience
In addition to representing clients in mediation, arbitration, and at hearings, Jill has been the lead architect on numerous dispositive motions. Her representative accomplishments include:
Wrote and argued opposition defeating a summary judgment motion seeking dismissal of a collateral agent's suit to recover assets misappropriated from a medical practice based on lack of standing under NY BCL; negotiated multi-million dollar settlement.
Wrote and argued opposition defeating an investor's motion to add multiple fraud-based claims to a breach of contract action; obtained appellate affirmance confirming loss causation argument.
Drafted an appellate brief overturning the trial court's dismissal, on erroneous res judicata grounds, of a prominent NYC landlord's Article 78 petition challenging DHCR's denial of its application to modify services.
Wrote, argued and won summary judgment dismissing a broker's claim seeking a commission in connection with a transaction to purchase property for a country's Permanent Mission to the United Nations.
Devised and implemented a successful strategy to purchase a closely held corporation's shares in a hotly contested dissolution proceeding; settled case after opening statements based on valuation position.
Drafted appellate brief overturning trial court's erroneous order cancelling and voiding a commercial mortgage as a purported fraudulent conveyance.
Negotiated and litigated property owner disputes concerning licenses and access agreements, easements, and party walls.
Obtained NY OAG approvals for the sale of assets on behalf of not-for-profit and religious corporations.
Negotiated reinstatement of a condominium's RPTL 421-a tax benefits and a reduced fine for alleged non-payment of prevailing wages to building service employees.
Jill's pro bono experience includes representation of a juvenile immigrant in removal proceedings on behalf of KIND; drafting an amicus brief on behalf of The Public Interest Law Center challenging denial of a student with disability's right to be accompanied by her service animal; representation of a not-for-profit dance troupe in contract and intellectual property disputes, representation of a religious organization in a licensing agreement permitting the display of Tiffany windows; and appellate representation of minors on behalf of Lawyers for Children.
---
Bar Admissions
New York
Connecticut
U.S. District Court – Southern District of New York
U.S. District Court – Eastern District of New York