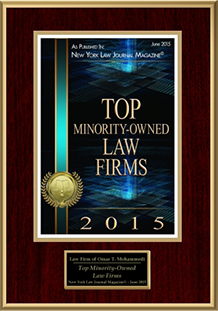 In  2015-2016  OTMLAW was named in the TOP 100 firms.
Whether you are looking to resolve legal issues in court, negotiate a contractual matter want to establish and operate a business entity or seeking justice for acts of discrimination or profiling to redress your civil rights violations againstan employer, a police officer, a township, a federal state or city agency, OTMLAW will serve your interest with integrity, diligence and dedication.
In two consecutive years, 2015 and 2016, the LAW FIRM OF OMAR T. MOHAMMEDI, LLC has been named as one of the top 100 minority law firms in New York State. The ranking is testimony to the success OTMLAW has achieved in handling various high profile litigation and corporate cases. The litigation department has successfully handled various prominent civil rights and airline discrimination cases, employment discrimination, school bullying, religious institution discrimination, business and commercial dispute matters, as well as complex multidistrict litigations. To name a few OTMLAW has successfully litigated cases such as Amadou Diallo, the Six Imams, Muslim Women against the MTA, The Islamic Mosque of Florida, Hashmi and Imam Abur-Rashid FOIL's litigation against the NYPD.
Real estate litigation is a specialized legal practice that demands a comprehensive understanding of both business and litigation. We are ideally suited to operate effectively at this intersection of corporate interests and dispute resolution. We have handled some of the most complex transactions in the nation, which means that we are fully versed in the most current deal structures. That familiarity is an enormous benefit on the litigation side because it enables us to identify substantive issues and assess the relative merit of various positions.
The LAW FIRM OF OMAR T. MOHAMMEDI, LLC is a global law firm with extensive experienced attorneys who represent clients before, federal, state and international courts in English, Arabic, French. Attorneys at OTMLAW are licensed in both civil and common law jurisdictions. Our attorneys are also licensed to represent clients before the Court of International Trade on related international trade disputes.
OTMLAW transactional work includes drafting business and commercial contracts in civil and Islamic legal matters such as, shareholder agreements, partnership agreements, bylaws for not for profit organizations, trusts, endowments, Islamic wills and trusts, as well as Islamic finance structures. The Islamic financial structures include but are not limited to, Sukuk, Mudaraba, Murabaha, Musharaka. The Firm has served as advisors to HSBC in the development of their Shariah-compliant financing products variety of investment and trade matters. Omar Mohammedi, Esq., the managing partner, lectures Islamic Finance and Islamic Estate Planning at Fordham Law School.
The Firm has the requisite experience in representing companies investing in the Middle East and North Africa. Our attorneys are trained to handle even the most intricate and complicated international trade, environmental, finance and insurance matters. The Firm has represented clients doing business in the Gulf States and North Africa as well as international clients looking to do business in the U.S.
The LAW FIRM OF OMAR T. MOHAMMEDI, LLC offers seminars and lectures on various legal issues. In conjunction with the Department of Commerce, the managing partner, Omar T. Mohammedi, has lectured in symposiums on international trade and contracts. He has also been involved in training foreign lawyers in areas including, but not limited to, international commercial arbitration, insurance, letters of credit, and construction project financing.