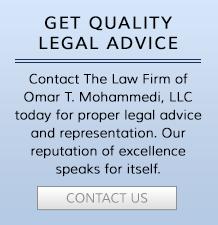 The Law Firm of Omar T. Mohammedi, LLC also provides quality representation for our corporate clients from formation to dissolution. We represent clients of all sizes including profit and non-profit organizations, corporations, limited liability companies, partnerships and sole proprietorships. We have represented our clients on issues including:
For profit and nonprofit corporate formation
Management
Buy/sell agreements
Mergers & acquisitions
Franchising & branding
Dispute resolutions
Not-For Profit
The Law Firm of Omar T. Mohammedi LLC has extensive experience advising not for profit clients from incorporation, to by-laws to operations. We have developed a strong reputation for understanding the unique needs of not for profit corporations.