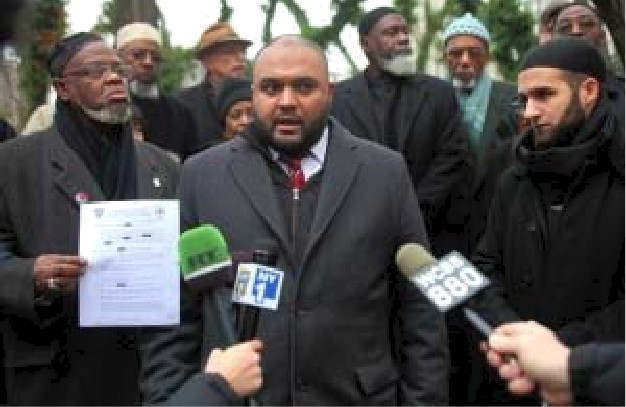 Islamic groups are taking the police department to court over alleged cases of Muslim surveillance. NY1's Dean Meminger spoke with two men who say officers unlawfully spied on them. He filed the following report.
Members of the Muslim community want to know what the New York City Police Department knows about them .
"We have a right to know how, when and why you've been spying on us," said Imam Talib Abdur-Rashid, who is suing the NYPD.
Abdur-Rashid, who is a well-known com m unity activist in the city, and Samir Hashmi, a former student at Rutgers University, say that the police department conducted surveillance on them .
They say that they have seen police documents that list their names and organizations. But what else does the NYPD have on them?
The two men say that under the Freedom of Information Law, they requested copies of intelligence documents, but were denied. Now, they've filed a motion in state Supreme Court, trying to get a judge to force the department to turn over the information.
"The NYPD actions are beyond comprehension when they spy on these individuals and many others without any suspicion of a crime, and they refuse to turn over information they have by asserting blanket objections such as public safety and privacy," said Omar Mohammedi of the Muslim American Lawyers Association.
"I'm curious to see what they are hiding," Hashmi said. "Obviously, I'm standing here before you, I've committed no crime. So what is it that they have on me? I'd really like to know."
Police Commissioner Ray Kelly wouldn't s peak about this case because it's in litigation, but while answering a question about what he's thankful for, the commissioner did say he has the support of various com m unities.
"Contrary to some people's opinion, that our relations hips with the com m unities that we serve are strong, that those relations hips s how that strength in polls that are conducted," he said.
High approval ratings, though, aren't enough for those who say that the city has violated their civil rights.
The NYPD has consistently argued that it does not spy on Muslims or break any laws, but rather follows leads and tips to potential terrorist activity.
"Well, we say to you that if you have nothing to hide, then release the information that we request," Abdur-Rashid said.
They say that they plan to keep up the pressure to get those records.