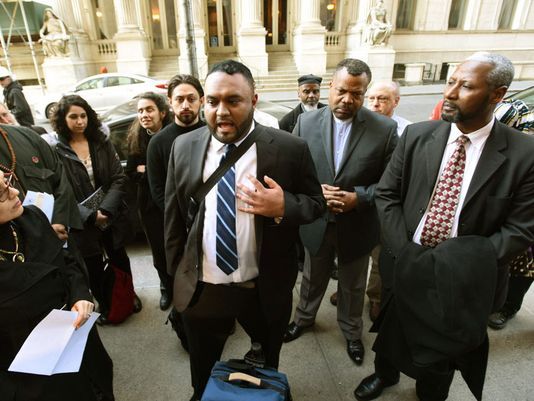 The Paramus man was denied, but the response differed from the replies sent by the New York Police Department to other Muslims he knew who also requested surveillance documents. They got letters that police had no such records, while Hashmi got lengthier responses that detailed why police couldn't supply him with records. Hashmi said it was apparent to him that the police did have files on him.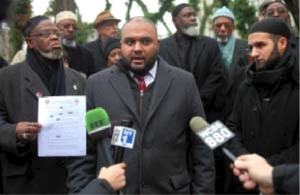 Samir Hashmi of Paramus , who was a member of the Muslim Student Association at Rutgers, at a news conference in New York on Tuesday
"I just would like those records expunged," said  Hashmi, 25. "I really would like to see what activity I did that caused them to be so suspicious. I've only been an active Muslim and I've never advocated violence at any time. I want peace of mind."On Tuesday, Hashmi filed a lawsuit in New York State Supreme Court against the New York Police Department, demanding it release the documents that pertain to him and the Muslim Student Association. Hashmi spoke about the lawsuit at a news conference Tuesday alongside Harlem Imam Talib Abdur-Rashid, who also sued when the department denied information about police surveillance on him.
Hashmi and Abdur-Rashid, flanked by members of civil rights and police reform groups outside NYPD headquarters, called for a stop of "unwarranted surveillance."
Police Commissioner Raymond Kelly and Mayor Michael Bloomberg have maintained that the police surveillance was legal and constitutional and that they collected information that was publicly available to know where terrorists might go to "lie low." The police used informants, they said, only to follow leads.
Hashmi, a bookkeeper who graduated from college in :zoi i, said he joined the Muslim Student Association to help his community and show a positive side of Islam after the Sept. i i terrorist attacks. He also has been involved as a youth leader at the Islamic Center of Passaic County in Paterson, which was monitored by the Joint Terrorism Task Force, which includes New Jersey and New York police and the FBI. Hashmi was born and raised in New Jersey and his parents are from Pakistan, he said.
In October non, the Associated Press broke news that the NYPD had watched Muslim students at i6 colleges across the Northeast by monitoring websites and emails and using undercover officers and informants to pose as students. The police actions were part of a wider program of surveillance at Muslim houses of worship, businesses and schools that stretched into New Jersey, including Muslim neighborhoods of Paterson and Newark.
New York investigators monitored the Rutgers group online and noted two events that the group was holding in a "weekly MSA report" by the police Intelligence Division's Cyber Intelligence Unit in November 2oo6, according to police documents obtained by the AP.
In zoog, undercover officers had a safe house in an apartment near the Rutgers New Brunswick campus, which was discovered when the building superintendent entered and found a sparse apartment with computer equipment and literature on terrorists and Islam. He called gii, thinking it was a terrorist cell.
The FBI responded and found that the operation had been monitoring Rutgers University students, the AP reported.
Muslims and student leaders said the surveillance has made people afraid to participate in Muslim groups and student clubs and suspicious of people they don't know. Hashmi said he has been wary when meeting Muslims for the first time, for fear that they might be informants, and that he is more reluctant to speak up on politics.
Hashmi first submitted his request for information under New York's Freedom of Information Law in October :zow. It took eight months for the police department to respond, according to the lawsuit, in violation of the mandated no-day response time. He was denied, and his appeal was denied.
When the NYPD did respond, lawyers claimed it was exempt from disclosure, according the lawsuit, filed by the New York City law firm of Omar T. Mohammedi. Reasons provided included that release of the records would result in an unwarranted invasion of privacy; that they failed to "reasonably describe" the records sought; and that the records qualify for public safety exemption and exemption under state or federal statute.
Hashmi and Abdur-Rashid should have access to those documents under the Freedom of Information Law, their lawyer said.
The imam said he learned that he was a target after he viewed a trove of police documents released by the Associated Press online. He was shocked to also find his own name listed in a report in connection to the verdict in the case of Sean Bell, who was shot and killed by New York City police in zoo8, he said. He believes he was targeted because of his political activity.
Ryan Mahoney, president of the New York chapter of the Council on American-Islamic Relations, said people were being singled out because they were outspoken or critical of policies and police.
"They are targeting leaders in the community for being active and for speaking out for justice," he said.
Hashmi hopes the lawsuit will end in the release of his records and will draw attention to the impact of police surveillance.
"I hope there is a policy change and this isn't allowed in the future," he said. " I hope they don't spy on us anymore.
http://www.northjersey.com/story/news/2017/02/24/paramus-man-continues-fight-police-surveillance-records/98366312/